"Dem Bones!" by Mary Kaye Sickles
Gallery Forty-One presents the October Exhibition Room Show featuring Mary Kaye Sickles.

When witches go riding and skeletons are seen, the moon laughs and whispers, 'tis near Halloween. A fitting show for the haunting month of October.
Opening reception Friday, October 7th, 6pm - 8pm. Show runs October 6th - November 3rd

Check out an interview by What's Goin' On Binghamton? with Mary on YouTube.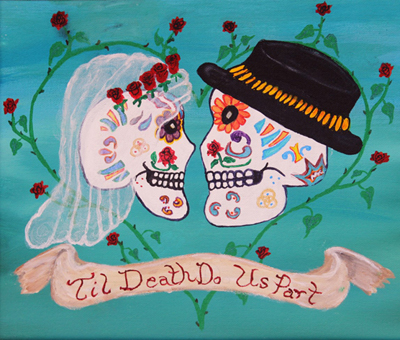 Also note upcoming at Gallery 41:

November: Book signing with R.W. (Bob) White in Gallery on Friday, November 4th, 6pm - 8pm. His new book is titled, "Deadly ICE".


Nov 12th - Dec 31 Gallery 41 Member and Guest Annual Holiday Showcase, "Our Gifts to You" will be featured in The Exhibition Room. The holiday themed room will be filled with new art and crafts for gift giving in mind and will feature our beautiful Ornament Tree covered in hand-made ornaments designed by our members and guest artists.